NATO and Sweden must improve coordination mechanisms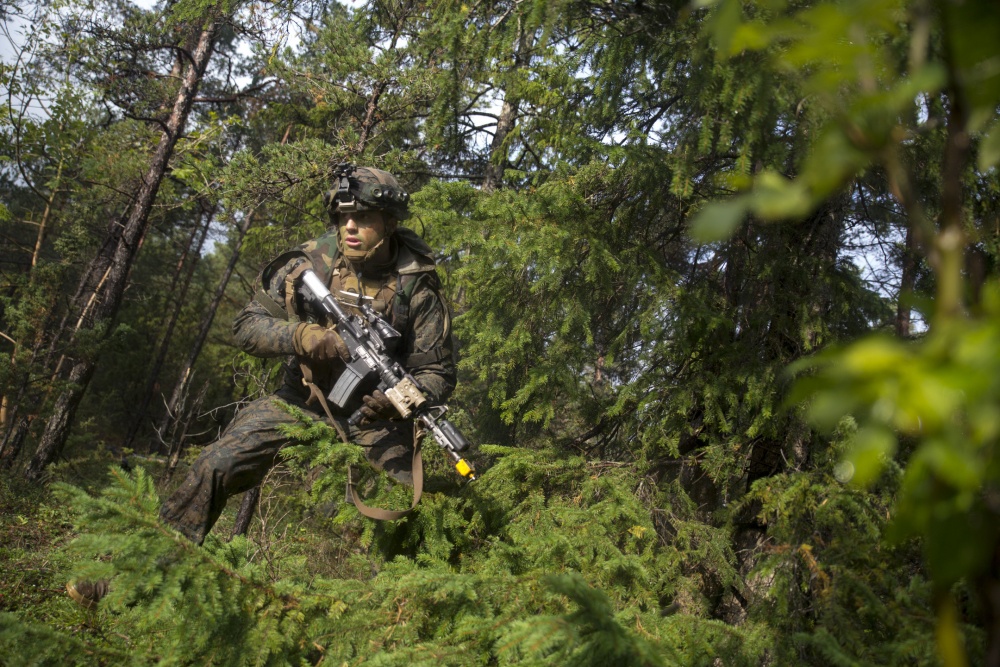 It is important for countries like Sweden and Finland to be able to participate in the discussion or even decision-making process with NATO in times of crisis.
Even while not a NATO member, Sweden is committed to offer military and civilian support to neighbouring countries if necessary. This is why it would be important for countries like Sweden and Finland to be able to participate in the discussion or even decision-making process with NATO in times of crisis, but this is something which we must still work on, stated Anna Wieslander,  director of the Atlantic Council's Northern Europe/Future Europe initiative and the general-secretary of the Swedish Defense Association, in an interview with LETA and Defence Matters.
By Guntars Grinums
Would Sweden be ready to sacrifice some of its neutrality if the Baltic states requested help in an hour of need?
Since 2009 we have a clear policy for our security which states that we will help out the Nordic, EU and NATO members in our vicinity and we will give them military and civil support if they will ask for it and, on the other hand, we expect them to do the same for us even though we are members of the EU but not NATO. It is kind of a unilateral security declaration built on Article 427 of the EU's Lisbon treaty, in which we have a strong solidarity clause but we have extended it so it would also include Norway which is not a member of the EU. So yes, it is our true intension to be active and show solidarity in case something happens to our neighbours.
How fast would the cooperation between NATO and Sweden be if united steps would need to be taken, keeping in mind the decision making processes on both sides?
I see that as a point of concern, actually, one that we need to work on. Since we are not members of NATO, if something would happen, we would not sit at the table of the North Atlantic Council where decisions are made. However, it could be useful for NATO since Sweden is a big country in the Baltic Sea region and we could be very quickly drawn into or a conflict. It would be preferable and an advantage for the adversary for us not to have a seat at the table, while it would be useful for the NATO to have us present to a certain extent. I think we need to work on those processes and see how we can shape this, so at certain points you would have such parties as Sweden and Finland at least join the discussion perhaps. Maybe not the decision making, but also not be left to stand by the coffee machines and wait for someone to leave the room and gossip for us, but actually be part of the discussion, be able to share the information we have and coordinate on actions and so on. I think that would be very, very important because things would happen very fast in such a scenario. Probably, with the use of deception, we would not really know what is happening and this could also be a good way to coordinate our efforts and share our intel and situation awareness. So, I hope we can work out a true mechanism. This would be very useful.
How close is the cooperation between the Swedish and Baltic armed forces? Are we working together just occasionally or on a regular basis?
We are working together more on a daily basis. We have a good foundation, because during the 90s, before the Baltic states became NATO members, Sweden did a lot to help in this transformation, to assist in what the Baltics wanted to achieve in order to get ready for NATO membership. We have a pretty long tradition on working together, and we have worked together on some NATO-led international missions as well. We also exercise frequently together and we try to integrate our forces in such a way. Furthermore, we also have NATO's enhanced forward presence in the Baltic States at the moment. Sweden is so close and our security policy is one of assistance, so let's connect and get to know each other even more. I think that is important. We could work even more closely, for instance, with Sweden participating in the air police mission with aircraft. I do not think it this would be impossible. We could also add some Swedish vessels to the naval forces. We must continue to work together.
Is Sweden, as a neutral country, fighting Russia's attack on Western values alone or are we fighting it together?
I think Sweden is fighting it together with members of the EU which we share these values with. We are close partners with NATO and we are also members of the UN Security Council. I think we are clearly not alone in that feeling that we are being challenged by Russia.
We are being targeted with disinformation or propaganda from Russia as many other Western countries. What we have sensed is that there are two major topics basically. As Sweden has taken a strong stance against Russia on the war in Ukraine, we have had experiences with fake letters from our defense minister as well as other fake stories. Another issue is the issue of Swedish membership in NATO. We hear frequently from Russian public officials, from [minister of foreign affairs Sergei] Lavrov, even from president [Vladimir] Putin himself, saying that if Sweden would join NATO then Russia would have to look into this and its military postures, and make adaptations to this new situation. Of course, it is a bit uncomfortable to hear that kind of messages when Sweden decides its own security policy and we would like another kind of messages regarding that.
How challenged do ordinary Swedish citizens feel?
I think Swedes in general are skeptical towards Russia – if you look at opinion polls comparing different countries in Europe, we would be among the most skeptical. And it was like that even before Crimea, it is part of our history and so on. We are quite resilient, we do not have a Russian minority, and we don't even have a border with Russia or any historical ties. What it might do is that it could influence some groups on NATO membership that would be hesitant, stating that it would not make sense to join the alliance and worsen relations with Russia.
If we speak about ordinary citizens, there has been increased debate also in the media how to handle these kind of statements from Russia that are perhaps not perceived as real facts. The media is much more attentive to this now and through that the public is becoming increasingly aware that these things are actually going on.
Photo: Marine with Marine Rotational Force-Europe prepares to change a fighting position during Exercise Aurora 17 in Lärbro, Sweden, Sept. 21, 2017. Aurora 17 is the largest Swedish national exercise in more than 20 years, and it includes supporting forces from the U.S. and other nations in order to exercise Sweden's defense capability and promote common regional security. (U.S. Marine Corps photo by SSgt. Marcin Platek/Released)