Garisons: Information operations against Latvia possible during Zapad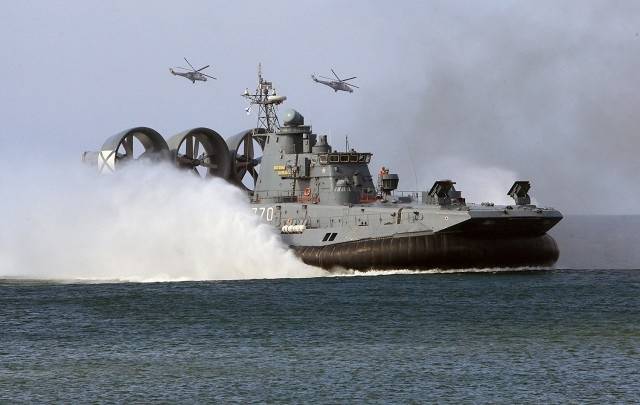 Even though no specific activities within the Latvian armed forces are being planned in connection with Zapad, it cannot be ruled out that Russia will use the situation of the United States being tied-up in North Korea to its advantage
We should not over exaggerate the threats posed by the Zapad military exercises being conducted by Russia and Belarus, however, the Latvian Defense Ministry expects that cyber and information operations will be carried out against Latvia during the exercises.
Even though no specific activities within the Latvian armed forces are being planned in connection with Zapad, it cannot be ruled out that Russia will use the situation of the United States being tied-up in North Korea to its advantage. In order to lessen security risks, the Defense Ministry calls on Latvian residents to be vigilant while the exercises are taking place, and that they should remain vigilant also on a daily basis, Defense Ministry State Secretary Jānis Garisons said in an interview with Defence Matters and LETA.
What are some of the security risks to Latvia associated with Zapad? 
We are following along what is taking place outside Latvian borders and already detected some time ago that Russian forces are being deployed in connection with the Zapad exercises. At the same time, we see that several units have been activated, and this level of activity is quite high. Increased activity by the Russian armed forces during military exercises is nothing new and has taken place in the past. I think that we do not need to create any unnecessary panic, because since the annexation of Crimea in 2014 Latvia has allocated considerable financing for defense and there is also an enhanced allied presence in the Baltics. We should not over exaggerate the threats posed by Zapad, because at times I believe that the Russian language media is deliberately trying to create and uproar and attempt to present that the Baltics are scared and living in fear.
We are not scared and living in fear. However, this security situation is unfortunately the norm in the Baltics, to which we must get used to. This is why we must continue to invest in our defense capabilities.
We expect that cyber and information operations will be directed against Latvia during the exercises. These are the security risks we are expecting most.
Of course, we are also expecting a direct show of force near our borders, but the already mentioned operations directed against us are what we are expecting on a daily basis. I am not revealing what our reaction will be if such operations are indeed launched against us, but if you closely follow along what is happening within the information space, we see that Russia already implements such operations on a regular basis. Is there something new which we are expecting? This is something which we can only guess, but we know that special information and cyber units have been formed in Russia, and it would actually be strange if they do not involve these units during Zapad.
Is there not a threat of unexpected or accidental incidents?
If someone wants an incident to take place, then it will, thus there is little chance of an 'accidental' incident. However, I ask not to speculate with potential accidental or unexpected incidents. I would like to remind you that the only serious incident in our border area took place during the spring of 2016, when Russian military aircraft aggressively flew over a U.S. naval ship. I hope that such incidents will not repeat themselves.
At the same time, I also ask to refrain from speculating the possibility that the Russian armed forces will remain in Belarus after the conclusion of the military exercises, thus changing the security balance in the region. Belarus has a strong cooperation with Russia, however, we do not know whether politicians in Belarus would allow the Russian armed forces to remain in the country. I would not create an uproar regarding this matter, as I do not see major risks here. At the same time, I will remind you that relations between Russia and Belarus have been rocky at times, but the crisis between the two countries has been smoothed out and a more active period of cooperation has begun.
Many have emphasized the lack of transparency regarding Zapad, but some transparency was observed in Russia's activities in the past.
Russia's attitude as a whole is not understandable. The statement by the Russian ambassador to Latvia, that Russian military activity is due to NATO's increased presence in Eastern Europe, is absolute stupidity. NATO did not decide to deploy its forces to Eastern Europe after waking up one day and there was nothing to do. These forces have been deployed because Russia occupied Crimea and supported the invasion of Eastern Ukraine. At the same time, we must also take into account the other military activities taking place near Baltic borders. Any normal country would attempt to dispel concerns about possible threats to their neighbors. However, we clearly see that Russia does not wish to dispel these concerns. Concerns can only be dispelled if there is transparency regarding military activity.
Russian analysts have expressed that Russia has the right to organize exercises in various regions of the country, and if the exercises have less than 13,000 soldiers participating in them, then they do not need to invite observers. However, this does not dispel concerns, but raises suspicions that something is being hidden. The transparency principle is such that observers can arrive unexpectedly and get acquainted with the scenario of the exercise. Latvia, in accordance with the Vienna Document, has offered Russia a bilateral agreement on the organization of unexpected inspections. Unfortunately, Russia has consistently turned down these proposals.
What is the scenario Russia is preparing to demonstrate to observers invited from the West?
We will find this out when the Latvian observers will arrive in Russia and Belarus. We have only acquainted ourselves with the information both countries have circulated within the OSCE. There are inconsistencies in this information. If Belarus is speaking about combating terrorism, then Russia is speaking about a conventional war. For example, during the previous Zapad exercises, Iskander missile systems and other heavy military equipment was used, which, according to the NATO doctrine, are not used in the fight against terrorism. I think you can agree – it is difficult to 'fight' separate groups of terrorists with missile systems. Representatives from the Russian armed forces have publicly demonstrated scenarios about three imagined countries, of which a part is located in Latvian territory. As I mentioned before, in order to ensure a level of trust, visits by observers should be relatively unexpected and they must be able to observe the exercises themselves, instead of arriving on a specially coordinated media day.
What signs should Latvian residents pay attention to during the military exercises?
The Security Police has already circulated information for residents to inform authorities about possible military activities, for example, if they notice persons in military uniforms with no insignia, or persons armed with weapons. We also call on residents to inform about any suspicious activity near military objects or external borders. This is something residents should also remember on a daily basis, not just when the Zapad military exercises are taking place. For example, detecting a drone near a military object is also something which should be reported. Latvian society must understand that this is the security environment we are living in at the moment. Taking into account the information campaigns being conducted by Russia, residents must also develop critical thinking skills, while at the same time understanding that false information is being circulated on a constant basis. In the meantime, the Defense Ministry must continue to develop its battle capability. The professional armed forces, Home Guard and allies are prepared to defend the country.
How will the Latvian armed forces act during the active phases of the exercises and afterwards?
It is difficult to determine when the active or passive phase will begin. Since the annexation of Crimea in 2014, the Latvian armed forces have changed its procedure of reaction and raised its battle capabilities. Latvia continues to react to any Russian activities near its borders, like, for example, the deployment of military units. This is normal. No specific activities within the armed forces are being planned in connection with Zapad at the moment. The previously scheduled exercises will take place as planned, in which Latvian and allied soldiers will participate in. For example, NATO generals are expected to gather at the National Defense Academy for training. At the same time, there are currently over 1,000 NATO soldiers deployed to Latvia, as well as a U.S. helicopter unit, with an additional 200 U.S. soldiers expected to arrive during the Zapad exercises. A U.S. naval ship will also be located in the Baltic Sea. I believe that this is a large enough signal to deter Russia from provocative activities.
As I mentioned before, we are no concentrating on a specific date, but are coordinating our actions with military activity taking place near Latvian borders. I would like to remind you that one of the priorities of the armed forces is anti-air defense, including the improvement of our air monitoring systems.
If tensions in North Korea continue to rise, could Russia use the fact that the U.S. is distracted in the region against the Baltic?
Of course we cannot rule out such a scenario. The coup in the USSR in 1991 started while the Iraq War was taking place, which diverted attention from the Baltics' efforts for independence. However, the enhanced NATO presence in the Baltics and U.S. Army Europe's commitment to remain involved in security matters leads me to believe that even if Russia attempts to organize provocations, the United States will certainly pay enough attention to our region.
I also do not wish to hypothesise on comments made by experts that Russia will not invade anywhere because it is hosting the FIFA World Cup next year. We have seen in the past that Russia likes to surprise, which is why I would not rush to such conclusions. It is then when we begin to believe such announcements that we can lose our vigilance, and this would then become a good opportunity for others to surprise us.