Chairman of EUMC: Coordination between EU -NATO is Crucial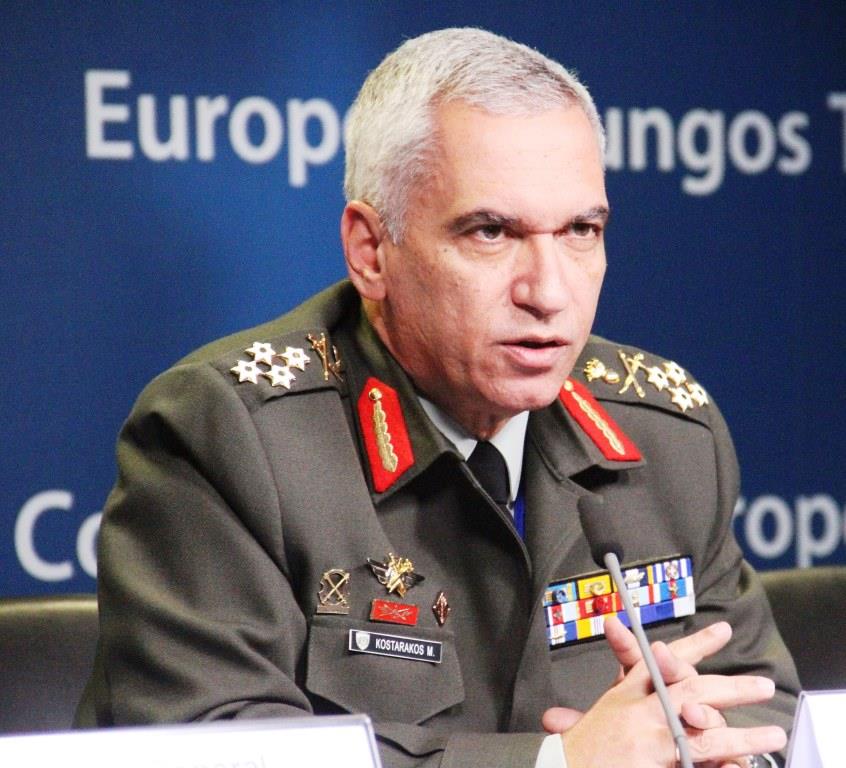 Both organisations share so many key security challenges (stemming from their shared membership) it is unsurprising that CSDP objectives significantly overlap with NATO's strategic concept.
Eleni Panayiotou
General Mikhail Kostarakos, Chairman of the EU Military Committee (former Chief of the Hellenic National Defence General Staff) explains how he sees the EU - NATO relationship and how Brexit might affect EU operational and military capabilities. 
What is your role and the role of the European Union Military Committee (EUMC)?
The Military Committee is the highest military body set up within the Council. It was created in 2001 and consists of the 28 Chiefs of Defence of the Member States. In short, we are the expression of the military establishments, while the Ambassadors are the political expression of the Member States. The Committee provides military advice to the Political and Security Committee(PSC). I am a member of the PSC and provide a military viewpoint to discussions.
Since the Chiefs of Defence cannot be in Brussels all the time, they are regularly represented by permanent military representatives. The Military Committee is one of the few Council bodies having a permanent Chair. The Chair has a 3-year mandate, is selected by his peers, generally from among former Chiefs of Defence, and is appointed by the Council.
My main job is to be the military advisor to the High Representative, but I also provide military input or advice on all issues that we are asked or where we have decided that it is necessary. This advice is agreed among the 28, which means that it represents a common ground between all the military of our Member States.
What is the situation as regards European Common Security and Defence Policy (CSDP) today? How much will a possible UK departure affect the operational and military capabilities of EU Defence if at all and if not why not?
UK will continue to provide its contribution to CSDP missions and operations in the transition period, from now till the end of negotiation phase (art 50 activation plus two years). This includes the current and the announced contribution to EUNAVFOR MED Operation Sophia, as well as the assurance of the stand-by period of the EU Battle Group (BG) with UK as framework nation (current semester).
As for the EU CSDP, defence is and remains the responsibility of the Member States. It is the Member State that defends its own territory. I think we have made great progress there. Before 2001 we were not even thinking of having military personnel in the EU Institutions; at present we have three military operations and three missions running to defend EU interests. EU defence will also inevitably develop further as long as it is connected with security. In the past, security was an internal matter, whereas the army was used to defend the country from the enemy outside the borders. This is no longer the case.
Operation Sophia in the Mediterranean has recently been extended for one more year. How successful has the operation been in disrupting human smugglers and traffickers? What are in your view the main challenges EU CSDP operations will face in the future and what is their added value?
At present - 98 Safety of Life at Sea (SOLAS) events have been carried out and more than 16000 migrants have been rescued. Further, 148 boats were disposed and 71 arrests have been made. The operation, coherently with its mandate, has shown a deterrent effect in International Waters, limiting to territorial waters the freedom of maneuver of smugglers and traffickers.
CSDP, as an integral part of the Common Foreign and Security Policy (CFSP), contributes to enhancing the security of European citizens and to international peace and stability. This was recognized by the Council on 18 May 2015 and the EU Council in June 2015.
To achieve deepened cooperation with collective defence organizations, namely NATO, to further fine-tune our performance on the ground, to maximize the results of our training missions, they are also among the challenges that we persistently face in our effort to become more efficient and to optimize our performance! Beyond them, the challenge I regard as the major one is to identify ways to further contribute to the EU comprehensive Capacity Building efforts in the places we are, or will be in the future, deployed, assisting the local security and defence-related Institutions in taking over the task to provide security by themselves to their fellow citizens.
The EU is deploying three military operations and three military missions. These missions and operations rely on the concept of comprehensive approach: it's our trademark. This means that we deliver to the areas or countries we decide upon a full package including first of all the three Ds (defence, diplomacy and development) but also other issues such as governance, education, security, etc. The military is one percent of this comprehensive approach. We are not providing a safe and secure environment - we are training people to provide it for their own countries. We are not there with troops to control the country. We are there to train local law enforcement personnel through civilian missions or military personnel through our military missions. We can do whatever is politically requested. But we don't go for the military, for example in Somalia. We are aiming at a sustainable model of security.
To launch CSDP operations and missions, it requires not only political will but also the necessary capabilities. Given Russian aggression and emerging security threats - ISIS and cyber security - have the EU's military capabilities improved/changed and how do these capabilities complement those of NATO?
Moving forward and in view of the Warsaw Summit do the Berlin Plus arrangements adopted in December 2002 need to be reviewed?
Both issues have been taken into consideration by the new EU Global Strategy on Foreign and Security Policy which has been presented in June by the High Representative of the Union for Foreign Affairs and Security Policy/Vice President of the European Commission, H.E. Federica Mogherini.
For every CSDP operation and mission, the participating countries need to have at their disposal the enablers which will allow for their deployment and sustainment. Unfortunately, there are still significant shortfalls in areas like air-to-air refuelling and intelligence, command & control and strategic reconnaissance. Clearly, these remain absolute priorities for European capability improvement. Obviously, EU-NATO complementarity in capability development remains a crucial issue.
Do you see a role for defence in countering terrorism in Europe? Especially in the context of the new EU global strategy where there are calls for strategic autonomy, solidarity and mutual assistance? What will this imply inside EU and outside EU in terms of the shape of the answers?
Yes absolutely and the new EU Global Strategy shows us that in a context of rising global challenges and opportunities, we see the European Union as more necessary than ever and as the only framework capable of providing appropriate collective answers to the changing international environment.
The European Union is investing more in preventing conflict, in promoting human security and in stabilizing its neighborhood and regions affected by crisis all over the world. The EU is helping its partners and neighbors develop their capacity and governance structures, to strengthen their crisis resilience and their ability to prevent and control emerging crisis as well as terrorist threats.
With terrorism, we are facing a case of hybrid war. The opponents no longer invade our territory with tanks and guns. They are already here, inside our countries and in order to defend our way of life we need to use all the available means. The question is not "if" defence will be used. It is already being used: if you need more patrols in your cities most Members States will use their army, because of its  capabilities. The limit between security and defence today is much more blurred, and rightly so. We are using military capabilities, Tackling the smugglers and traffickers in Central Mediterranean for example, just because the military can do the job on the high seas, they have maritime patrol aircraft with radar and other necessary equipment, that's all. We need to deploy the capabilities where they are available.
How would you assess EU's relationship with NATO?
Our relationship with NATO is very good. It would be difficult to imagine it otherwise: 22 out of 28 EU Member States are in both organisations. We do have, however, two different missions: NATO provides security and defence. The EU provides something wider than that. We used to be "soft" power while NATO was the "hard" power. Today, we provide a comprehensive approach, that is "smart" power, or a combination of the two. In short, we are not only providing security or military training we also provide development, diplomacy, governance, education, and much more - basically, growth and hope for the future. Sometimes there is the potential for overlap, for example in the military, but the important thing is coordination: it makes no sense to have two different organisations running an operation in the same area and with the same goal.
Do you see a future for the Transatlantic partnership?
The Transatlantic relationship, as expressed through NATO, continues to provide the most desirable framework for ensuring the security of Europe and of equal importance, the principle forum for Transatlantic security relations.
Since both organisations share so many key security challenges (stemming from their shared membership) it is unsurprising that CSDP objectives significantly overlap with NATO's strategic concept. Both organisations have made commitments to meet challenges on a global scale, particularly with respect to conflict prevention, crisis management, terrorism and Weapons of Mass Destruction proliferation.
Both the EU and NATO have adopted their own security strategies. NATO adopted a Strategic Concept in 1999 which was updated in 2010 and as for the EU, the High Representative of the Union for Foreign Affairs & Security Policy/Vice-President of the European Commission, H.E. Federica Mogherini has just presented to the Member States (MS) the new EU Global Strategy on Foreign and Security Policy.